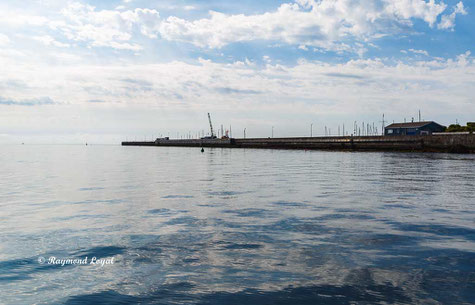 On the left you see part of the Harbour facilities. We went to the dune of Helgoland. The dune is, as the name says, a sand dune very close to Helgoland. Though, you will have to go there by ferry. The ferry goes daily from 0730h to 2300h and starts from the landing stages, every 30 minutes. From 1900h the ferry goes every hour. The last arrival is at 2300h at the landing stages. It is a medium motor boat that can take much more people on board than you can imagine. 
On the dune it is possible to swim and sunbathe. However , seals and grey seals are also there. They lay idle at the beaches. It is said that you get close to them but no more than 30 metres distance. But do observe the orders of the guardian.
Which what happened, when we set foot on the dune. Yes, you can get as close as 30 meters to them and take a pic.
Excellent we thought and off we went along the beach in order to get eyeball of the creatures.  
---
And yes, we did see seals and grey seals. However the buggers had decided to get some rest at a very slippery part of the beach which was also to 99 % consisting of shingle and very sharp small stones. Not good to go there on bare foot and also not to get onto your knees for some good shots.
Then we met the guardian. She was quite nice but very insisting that we go behind the barrier and leave the seals attending their own business.
We were told the seals do have their own part of the beach and people also have a separated part of the beach. So everyone and every seal is happy. 
Great. So we have only a few pics of the funny buggers. See below.
The beaches are lovely, the water is good and swimming there is refreshing. The spot was not overcrowded when we were there. Not too many people.