Monschau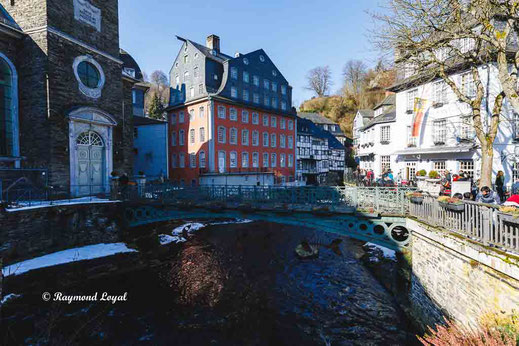 Not knowing what to do with a Sunday, we went to Monschau, situated in the Eifel region and close to the city of Aachen and the Belgium border. 
Monschau comes up with a historic city centre and you feel like walking trough a museum. The city, enjoys a tremendous number of tourists flocking through the streets. Monschau has quite a number of B&Bs and hotels and, of course plenty of coffeehouses. If you travel by car, don't worry, car parks are available at the perimeters of the city and you have only a short walk from there to the city centre. Below are some more images of Monschau to look at. Enjoy.
---
---
Sculpture of a travelling merchant. These people came from the city of Aachen and travelled around the countryside to sell their merchandise to the people.
---
Monschau Catholic Church