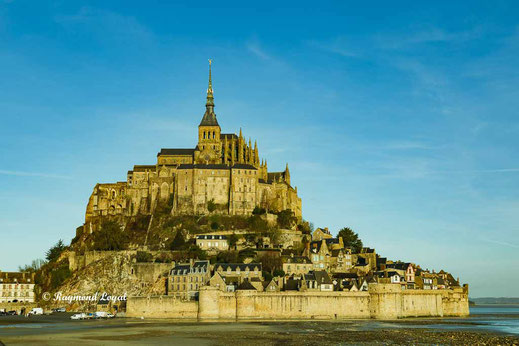 Le Mont Saint-Michel, one of the main tourist attractions in Normandy and UNESCO World Heritage Site (since 1979) as well and is also part of the French Jacob's Way. 
The hill in the sea, situated very close to the coast line and close to the border between Normandy and Brittany. 
Le Mont Saint-Michel dates back to to ancient times hand been the seat of a monastery since about 800 AD. More on the history of the hill will be in the next part of this special blog.
That hill in the sea is a complete tourist magnet. You cannot imagine how many people go there, unless you have been there yourself.
It is simply unbelievable. We are talking thousands a day. The tourist board published the annual number of visitors as being around 3,5 million people.
They used to have a dam there linking the mainland with the island. At the end of the dam / causeway they had had a visitor car park that lead visitors directly to the main gate. That was all discarded in 2009, when construction work began on a new dam and a bridge that connected the mainland with the island. The new bridge was opened to the public by its architect Dietmar Feichtinger on 22 July 2014. You can see part of the bridge in the above image.
They operate a free bus line between the hotels and the Le Mont. The bus goes every 15 minutes. You can also walk the distance from the hotels to the hill, which takes about 35 minutes, if you are not too slow.
Going to that place is a must. 
---
Map location and route planner
It must be said that having not been there would have been a complete loss to myself, if not a personal desaster. In other words, going there is a complete MUST. When you just think about it, don't mess around, pack your bags, your camera, your video and off you go. This is a tremendously superb site with plenty to see. The following pictures were taken on Tuesday the 19 Dec 2017. 
This image was taken at about 1000h in the morning, while standing below the ramparts of the monastery.